Sunday 11.00 am

18th October 2020


KAVOURI
(South coast)


AH3

Run 2120


Trail lengths
Runners: 6.6 km
Walkers: 1.8x2 km


Hare
CU Kiki & Amawanka


Starting location:

37.816833, 23.767000
Photos: Mad Dog & Rear Entry

Web page: Mad Dog
Arriving at the hash
Ribbons given to the hashers to divide them into groups of 9 (the present COVID-19 regulation)
The hares describe their run
Circle consisting of groups of 9 and with face masks
Hares CU Kiki and Amawanka
On On! Starting off along the Kavouri sea front
Passing the lifeguard
Branching off from the seafront at the check
Heading into the woodland
Hare CU Kiki at a check
Arriving at the memorial at the top of the hill
The war memorial
>>>>>>>>>> SCROLL RIGHT >>>>>>>>>> Panoramic view from the top of the hill >>>>>>>>>
On Off - Now where does the trail continue?
Jacket Off holds up a tortoise
Hares Amawanka and CU Kiki
Runner's group photo
Action photo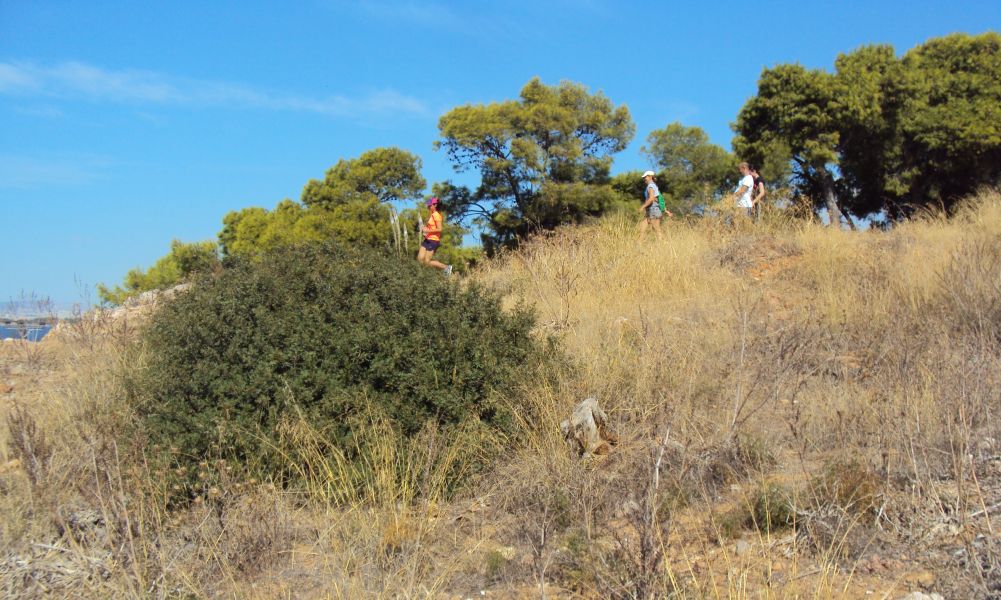 Heading down the hill
Tortoise R.I.P.
Heading back towards the beach
RA Fair Cop hands the hares their down-down beers
Strawberry4Skin and Bouboulina have not been hashing for a while
Little Violet helps dad Tender Vittles (MOM) in the circle
Tender Vittles gets a down-down
Stacy and Olympia
Fair Cop hands Clitoria the "Virgin checker" his police hat
Clitoria interviews two new boots
Strawberry4Skin interviews the ladies
Give me your answer to the 4th question
Back to back down-downs
Fair Cop announces the next item - a naming
The naming of CU Kiki
Clitoria sits on Kiki for fun
"I am not worthy"
Fair Cop asks the hashers which name they prefer for Kiki
Arise Shoulder Boulder
Jacket Off is given a beer for tortoise fondling
Tender Vittle's Apple Watch recording of the runners and walkers trails
Mad Dog's iPhone6 Strava .GPX recording displayed on Google Earth Pro (Rotated 90 degrees, North to right)
Elevation profile displayed on GPS TrackMaker
The directions to this hash - for the record
IMPORTANT COVID-19 PRECAUTIONS –
AT THE END OF THIS EMAIL
Next AH3 [Athens Hash House Harriers] Hashing event:
Date: Sunday 18th October – 11am
Run: 2120-ish
Hare: Amawanka & CU Kiki
Venue: Kavouri [South coast….]
On Inn: local taverna….
MIS-DIRECTIONS:
1. From the north, center and west of Athens
Get onto the Coastal Road towards Vouliagmeni.
After the traffic lights crossing with Leoforos Vouliagmenis, and the crossroads with Leoforos Evelpidon that leads to the airport, you will see a sign to Kavouri but do not turn there.
Go to the next sign to Kavouri and turn right at the lights into Leoforos Kavouriou. There is a Shell Garage on your left and an olive tree in the middle of the dual carriageway.
2. From the east
Get onto the coastal road Sounio to Athens, direction Athens.
Having passed Vouliagmeni, turn left into Leoforos Kavouriou at traffic lights. There is an olive tree in the middle of the dual carriageway there.
For all
Continue straight at the little roundabout till you get to the beach and the dead end.
The circle will be at the end of the road, so the earlier you get there the closer to the circle you will park. I'll try and make sure there is a space for RAs vehicle as it carries valuable commodity (beer).
For Sat Navvies
GPS: 37.816833, 23.767000

PLUS CODE: RQ88+PQ Vouliagmeni, Greece

LINK: https://goo.gl/maps/Py9WLbFYwtQ2


Lost? Directionally Challenged??
GPS not working or you don't know even what it is?
Just plain stupid???
Call: the Hares: CU KIKI 6946257865, AMAWANKO 6942564900
IMPORTANT COVID-19 PRECAUTIONS

1. MASKS IN CARS – If you are giving or getting a lift, you MUST wear your mask. Keeping car windows open may also help.
2. AT THE HASH – Hash Cash will be splashing on the sanitizer, and it will be available for hashers too.
There is NO requirement to wear a mask outdoors, but there will be no penalty down-downs if you prefer to keep yours on.
3. On-Sex – It has been a long time, but please refrain from grabbing, groping and snogging the other hashers. "Elbow bumps" will have to suffice. Clitoria [on-sex] says: Embarrassed what about bottom bumps?Confused
4. Down-downs – The beer bitch and the RA will be thoroughly scrubbed, and the coolers sanitized. No re-use of mugs, (bring your own if you want).
5. Rubbish – dump your own rubbish in the bag. Don't ask someone else to pick it up.
6. On-inn – We will probably be on tables of four or six. If you prefer a plate of your own, that is fine. If you are happy to share in the normal hash style, please be extra aware of how food is shared.