Sunday 11.00 am

17th June 2018

Ag. Paraskevi
Mount Immitos


AH3

Run 2047


Trail length
?


Hare
Strawberry4Skin


Starting location:

38.002673, 23.836406

Photos: Mad Dog, Jacket Off, Clitoria

Web page: Mad Dog
The walkers
Strawberry Foreskin Song (Beatles - Strawberry fields):
If you're looking for... a horrible trail... the flour is stale... and there's literally nothing to brag about...
Strawberry Foreskin Forever. Strawberry Foreskin Forever.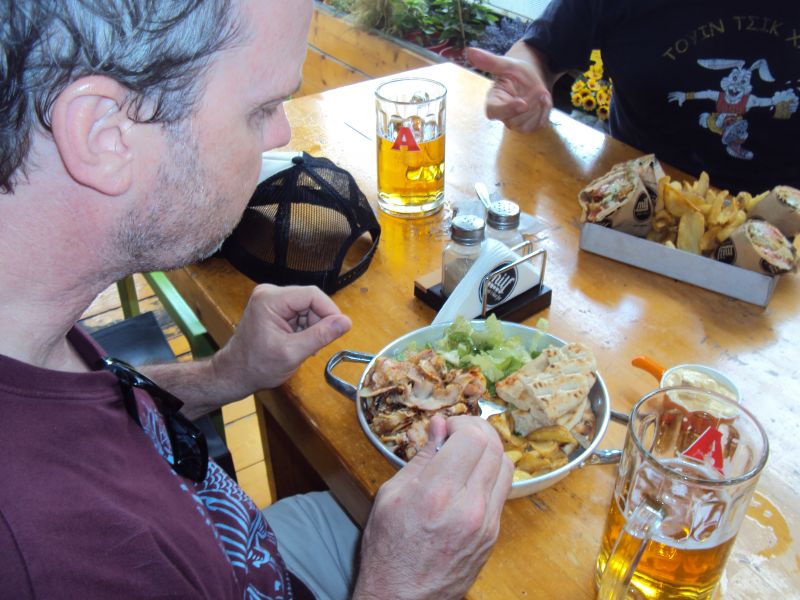 Only a partial recording of the trail due to a smartphone problem
From the Strava website
From the Google Earth Pro PC application
The directions to the hash - for the record
Next AH3 [Athens Hash House Harriers] Hashing event:
Sunday 17th June – 11am
Hare: S4S
Venue: Top of Ymittos mountain behind Agia Paraskevi
On Inn: tbc
Mis-directions:
From the South:
Go up Mesogeion Ave northwards away from Athens towards Agia Paraskevi.
About 50 metres before you reach the Agia Paraskevi church you will come to the main square on your right, turn RIGHT off Mesogeion Ave onto the square and drive anti-clockwise round the square - it's a one-way system! The church is now on your left. Turn RIGHT at the junction & head up the hill along Ag. Ioannou Road past all the shops and restaurants to the top where the Deree / American College will be directly in front of you (and also Mount Ymittos). Here turn left onto Gravias Road, drive about 400 metres and turn right at the sign to Agios Ioannou Monastery – this road is called Anatolikis Mesogiou. Follow the road up, passing over the Attiki Odos and just keep going past the monastery on your left until you can't go any further – there is an area where you can park at the top.. [GPS for monastery below]
From the North:
make your way to Agia Paraskevi church square somehow via Halandri or Stavros flyover, then same as above but drive in reverse J.
Attiki Odos:
Exit Attiki Odos (IMMITOS RING) at Y3, "Dimokritou"
At the exit, turn right onto Neapoleos, then first right onto Agia Pelagous
At the top of the street left onto Gravias street.
Pass the front of Deree College, then turn right up the road onto Ymittos as above.
GPS @ Monastery: 38°00'09.6"N 23°50'11.1"E or 38.002673, 23.836406
If lost: erm… you could call S4S but he has a UK number so don't bother…