BEFORE THE RUN
Fair Cop invites Rear Entry to describe his trail
THE RUN AND WALK
Rear Entry at one of his checks
Notice the Calatrava Olympic Stadium in the distance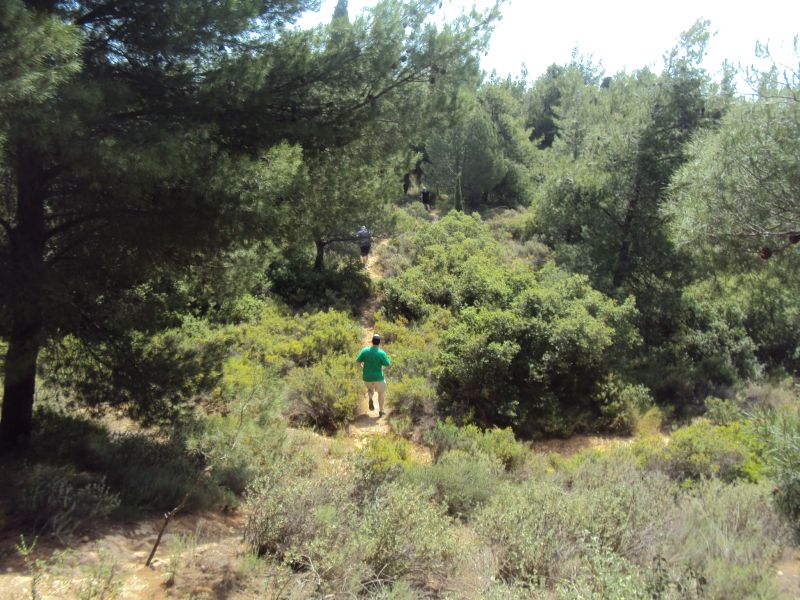 Beer stop
Doggy Style has found a tortoise
THE ON IN
The hare's down-down
Captain Codpiece
Jacket Off, Rim Job and Captain Codpiece
Oxymoron
Clitoria asks the 4 questions
Mad Dog accused of tortoise fondling
Does this count as sex on the hash?
Doggy Style and Mad Dog get a beastiality down-down
Bouboulina's flying club DIO for falling down on the walk
THE TAVERNA
GPS: 38.092486, 23.795664
Map location of taverna at Eleon 39, Nea Kifissia
Price PP was 18 euros including tip
THE TRAIL
THE DIRECTIONS
Next AH3 [Athens Hash House Harriers] Hashing event:
Sunday 29th April – 11am
Run: 2037-ish
Hare: Rear Entry
Venue: Syngrou Park Car Park….. MAROUSI
Mis-directions:
Driving
FROM THE SOUTH:
Coming from Athens go up Kifisias Avenue.
Go through / past Marousi.
Pass Nova Odeon cinema complex on your left.
Syngrou Park is now on your right. Continue on up in the right hand lane for 1/2 km or so. At the traffic light junction for the KAT hospital turn RIGHT into the Syngrou Park car park.
NOTE: If you pass the park and start to enter Kifisia you have gone past the car-park entrance. With heavy traffic you may have to turn around at the Kifisia park / bus station (Get in the left-hand lane).
FROM THE NORTH:
Going southwards on Kifisias Avenue.
Go through/past Kifisia.
Get into the left-hand traffic lane & then turn left at the KAT traffic lights - directly into the Syngrou Park car park entrance.
NOTE: If you reach the Nova Odeon Cinema complex on you right-hand side you have gone too far. Turn round here, as there are traffic lights, else you may end-up in Marousi.
By Metro / Electrico
--------------------------
Take the Piraeus - Kifisia line and get off at the KAT (hospital) station. Once out of the station, walk up the road at right angles to the railway tracks in the direction of the KAT hospital. You will immediately pass the Venetis store on your right. Keep straight and in 450 metres you reach Kifisias Ave. Immediately across the road is the Syngrou car park entrance.
Remember, this line is slow so leave plenty of time.
Meet in the upper section of the car park
GPS: 38° 3'53.60"N, 23°48'35.72"E (38.064889 N, 23.809922 E)
If you get lost call: Rear Entry 6942 477992
Please use your "Back" Button (Top Left) to return to the previous page