Sunday 11.00 am

17 April 2016



Ano Melissia


AH3

Run 1949


Trail length

6.5 km


Hare
Captain Sumo


Starting location:

38.065014 N, 23.842075 E
Photos: Captain Sumo & Mad Dog
Web page: Mad Dog
The trail - recorded on Pussy Basher's Garmin GPS watch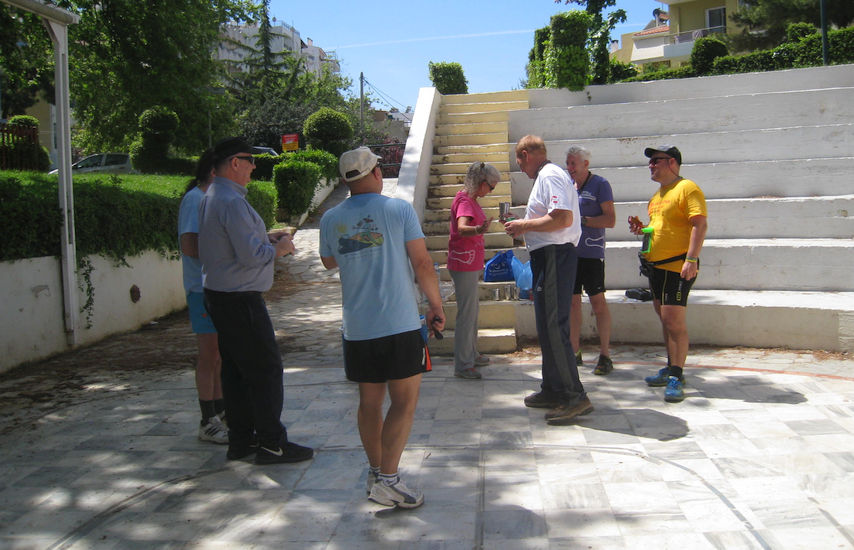 The directions to the hash - for the record
Sunday 17th April - 11am
Hare: Captain Sumo
Venue: Melissia [Northern Suburbs]
On Inn: tba
DIRECTIONS to the start of the run:

Meet at Ano Melissia - Open Air Theatre - At the Northern end of Iroon Polytechniou Street.

From the South:
Follow Kifissias Ave northwards towards Maroussi and at the Maroussi square & Germanos building on the left, turn RIGHT for Melissia, (see small sign for Melissia in Greek). Carry on up this road (Odos Pendelis ...changing to Democratias further up) until you come to a hairpin bend. After the bend, ski shop (right) and kiosk (left) continue on up until you see a large BP petrol station on your left (just before you enter the centre of Melissia). You need to turn LEFT here but you can't (legally). You must turn Right and go round the grass island (as the sign indicates) in order to turn left. Continue on up the hill (this is 25th March street), passing the Amelia Fleming hospital on your right and continue STRAIGHT on, through the traffic lights at the cross roads (when green!).
Continued Directions for all routes >>>>>
Continue straight and pass the big Eleftherias square (Ano Melissia) on your right and then St. George's church on your right (Note: the road has now become 17th November street).
After passing the church just continue on this road (after a while it will curve to the right) and shortly you will come to the taverna area (you will see a bus stop on the left). Park around here or turn right and go down and park around or behind the Theatre / playground area.
From Kifissia / Ekali / Politia etc:
Come the back way on Harilaou Trikoupi street towards Ano Melissia, passing Kefalari square on your right. Continue on straight, then round the Left, Right and Left bends and continue straight again (sign posted for Melissia, Stavros, Airport, etc). When you arrive at the (usually busy) T-junction in Ano Melissia, turn LEFT onto 17th November street (NOTE: At this junction, most of the traffic will be turning right). Now see Continued Directions ABOVE.

Typographically or cartographically challenged? Call Captain Sumo [he might answer his phone if he hasn't already said his 2 words for the day] on 6971 863081
For Sat Navvies:
GPS location: 38° 03' 54.05" N, 23° 50' 31.47" E (Or in decimals of a degree: 38.065014 N, 23.842075 E )
IF LOST - YOU ARE LOST - go home: