MOUNT PENDELI - 26TH JANUARY 2014 - RUN 1855
(Photos by Mad Dog & Captain Sumo)
- THEMED RUN -

HARES: CAPTAIN SUMO & CLITORIA
DAVELIS CAVE
THE RUN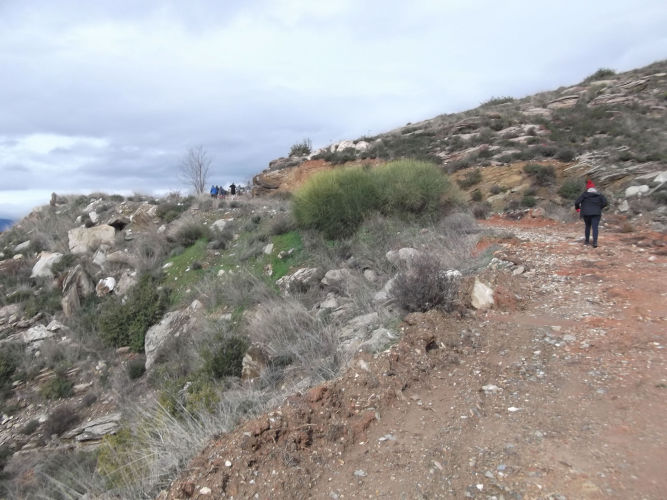 Bilbo Baggins
Azog
Mad Gollum
Gollum
Down down for coming in last
Rim Job has to drink beer strained through his (new) socks
Rim Job burns his old trainers
THE TAVERNA
The Serifis in Paleo Pendeli
14 euros per person - lots of meat and Beer + wine
THE TRAIL
Starting point: 38° 3'44.41"N, 23°53'1.30"E (at an altitude of 600m)
Trail length (cartographic): 7.8 km
THE DIRECTIONS
(Just for the record)
Hare: Captain Sumo [assisted amply by the demure Clitoria…]
*Desolation of Daveli Run*
Venue: Penteli
On Inn: Gandalf taverna
Prepare for the Desolation of Daveli this coming Sunday, we will go for an unexpected run to the mountain and find the Hashenstone, in the course we will pass through the Greekwood forest and other obstacles while fighting off various goblins, trolls and orcs... after this feat we will celebrate saving earth at the taverna of Gandalf in Penteli...
Below instructions to run:
Insert these coordinates in your navigator: 38.062, 23.884, or read on:
From Attiki Odos exit onto Pentelis, then continue north along Leoforos Pentelis towards Nea Makri over Pentelis mountain, pass through Paleo Penteli village and when you turn after the village up the mountain at Nea Makri sign [A on map] continue 950m and turn off the tarmac road sharply left onto a gravel road, drive along this road (choose middle fork when you come to it) for about a km and the run starts from there.
NB. the road is a bit lumpy and bumpy but OK when going slow.
In case the RA is a bit lackadaisical and there is inclement weather and muddy terrain we will stop at the guard hut a few 100m from the tarmac road and run from there.
Lost? Disorientated? Just plain stupid?
Call CS or go home...