Ancient
Marble Quarries

Mount Pendeli



6th May 2012

AH3 Run 1783

Hare: Mad Dog

Photos & web page: Mad Dog



GPS:
38 04' 40.08'' N,
23 52' 48.55'' E

Altitude: 953 metres

Trail length: 5.6 km
]
For the hashers to have a good run, experience some great views over Athens and also to visit the ancient quarries where the "Pendelic" marble for the Parthanon was extracted and in particular to visit the 3 quarries which have been identified as those where the marble for the Parthanon (Elgin) Marbles was obtained.
These marble sculptures formed the 160 metre frieze wrapped around the top of the exterior wall of the Parthanon's inner chamber. Originally there were 92 metopes - individual sculptures in high-relief - on the Parthenon. Of 64 that survived, 15 are in the British Museum and 18 remain in Athens.
The 3 (almost parallel) quarries have been identified by comparing in a laboratory the ratio of normal Oxygen 16 to the stable isotope Oxygen 18 (2 extra Neutrons) in the marble in the quarries with those ratios existing in the Parthanon Marbles.
Calcite (Calcium Carbonate) is the primary mineral in marble, and since it is composed of carbon, oxygen and calcium, the conditions and manner in which calcite crysallizes (after being in a molten state for a long period) affects the isotropic ratio.
The pack returns from a falsie at the start of the run
The runners admire the view to the East of the mountain.
The sea and Schinias to the right and the modern Dionysos marble quarries down below to the left.
Further to the left (out of the photo is Marathon Lake)
The walkers turn up and also enjoy the panorama below
The runners head for the ancient quarries -
- stopping briefly for shade at the only decent-size pine tree in the whole area
The view to the West of the mountain.
The Faliro and Pireaus coastline and sea are just visible through the haze -
and the white arch of the Calatrava Olympic Stadium and OAKA complex is clearly seen.
The runners pause for a group photo.
L-to-R: Thrice Nightly, Mountain Goat, Rear Entry, Rocket Socket, Strawberry4Skin, Fair Cop, Rim Job
Hare Mad Dog joins the group on the left
Looking down through a large ancient quarry to the city below
This is the view they are seeing
Runners enter the first of the 3 Parthanon (Elgin) Marbles quarries -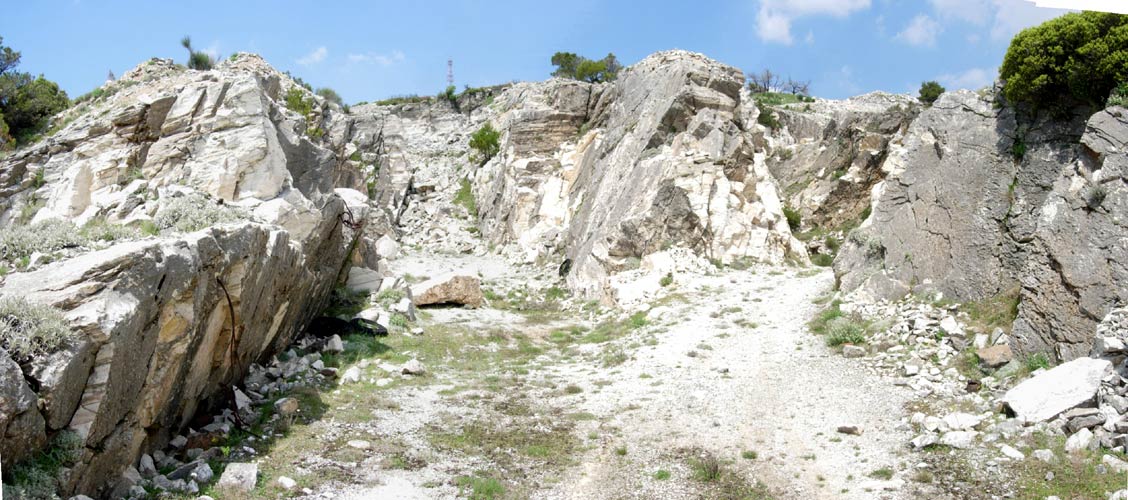 Quarry 2 (Right) and 3 (Left)
Having viewed the 3 quarries the hashers continue on the trail
We check-out another large quarry
The trail leads down and down.
Now they are coming to the "up" bit
On Up!
Let's try to roll this boulder of marble over? Yeah, no chance!
Hashers realize what sort of effort would be required to move 100,000 tons of this stuff down to the Acropolis
AND THEN haul it up to the top of the Acropolis.
Fair Cop takes a rest after the effort
On the way back the pack stops to cool off under that wonderful pine tree
What have they been looking at in the old quarrymen's hut?
Ah - ha!
Running back to the start and the beer
On On! thirsty hashers
The start of the circle
Wet Dream pours the beers
The hare Mad Dog
Presented with a hash necklace (thanks Rocket Socket!), MD checks it out
The hare's down-down
Mountain Goat speaks out and Clitoria replies
The Serif in Paleo Pendeli
NOTE: The last Ancient Quarry run was Run 1610 on 26th October 2008