Photographer: Mad Dog


The British Ambassador (Sir Simon Gass) with the new
Chieftain Ethel Martis prepare to enter the ballroom


The Guests of Honour are piped to their seats


The main Hasher's table


The first course (Smoked Scottish Salmon)


The Haggis is brought in with great ceremony


Traditional speech & knife wielding over the Haggis


The second course of Haggis, Neeps (turnips) & Tatties (potatoes)


The staff work hard at serving us


Now loosening-up after eating and some drinking


The third course (a choice was available)
This was followed by a sweet course (of course!)


The band plays another Scottish dance tune


The waiters bring more bottles of spirits & liqueurs - and coffee


AND NOW, a few individual portraits of our hashers...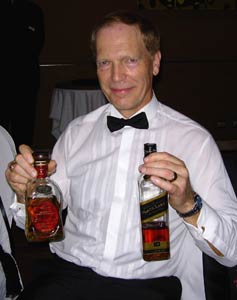 The Scottish dancing continues
(Thankfully, the bandleader called all the steps)


The piper plays rock!


The piper is very popular with the girls


This guy has no problem getting dates!


The DJ plays some good dance tunes


Onto the wee hours...
(At this point the photographer was too inebriated to take any more photos)