Paleo Psychico
(N-Central Athens)
- AUSTRALIA DAY RUN -
Run 1353 (Sun. 25th January 2004)
Hares: Pop Up & Captain Sumo

Photographer: Captain Sumo
Bottom Return To Photo Menu (<= Back may be faster)


A bit chilly! Let's get going!
Full ahead from a falsie


On on from an outdoor theatre




Sleazy Rider & Self Service


Self Service & Mountain Goat climb the hill


Group photo at first viewpoint
Shiva at the second viewpoint


Group photo at the third viewpoint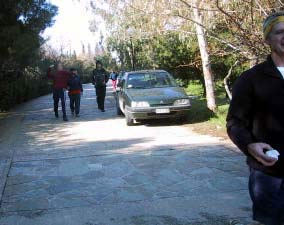 There was still some snow to throw


Shiva with son Up & Cumming



And later at the circle....
Rear Entry gets his 75th run badge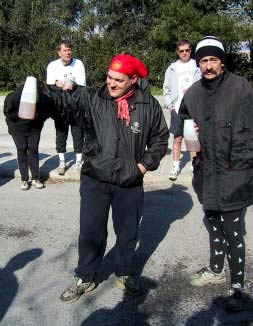 The Hare's DIO


Down Down Down



Up & Cumming gets his 75th run badge from Mad Dog


Circle view

One of Delhi Boy's Horrors
Bursting Bladder & Nicole


Another DB Horror

Hamish is lumbered with the stuffed elephant (Elly) award


Cocks Tale is delighted to receive the penis award


The Aussies get a group Australia Day DIO
Hamish Mc Tavish, Pop Up & Pete the Aussie

Return to Top